Marseille : Les Terrasses du Port !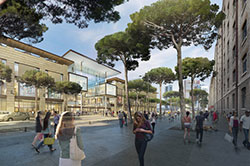 A 52,000m² retail outlet project including 150 boutiques and a dozen medium-sized (approximately 2,000m²) shops, numerous restaurants and 2,800 parking spaces. This development is situated near the Euromediterranée complex, a major national project to create a new neighbourhood in the very heart of Marseille.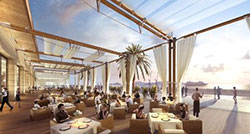 Les Terrasses du Port Centre is doted, in particular, with a superb 260m² terrace overlooking the Mediterranean Sea, just next to the ferry terminal which has an annual flow of one million passengers heading for Corsica and Sardinia.

The capture area covers 1,450,000 inhabitants who live within a 35-minute car-drive from the centre. It was designed by architect Michel Petuaud-Letang.

Delivery date is planned in 2014.

Bordeaux - A 19,000m² complex : Promenade Sainte-Catherine…
In the historic city centre of Bordeaux, a UNESCO heritage site, Redevco has bold plans to create a haven of life. This large-scale urban project, covering 17,000 sq. m., involves transforming an abandoned industrial site into a pleasant pedestrian district where life is organised around retail, leisure and housing. Located at the junction of rue Sainte Catherine and rue Porte Dijeaux, the buildings were previously owned by the newspaper Sud Ouest, which had its offices and print works there.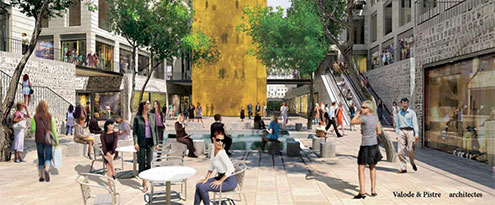 Credit for the concept and for the perfect integration of the project into the historical city centre goes to Valode-Pistre, the prestigious international firm of architects. For this development Redevco has also enjoyed seamless collaboration with regional authorities and services, and support and cooperation from the Bordeaux city authorities and all the economic players concerned.
Redevco signed the deed of sale in January 2011; the building permit was obtained in February 2010.
In order to integrate this new commercial block into the city and to create a welcoming and open, green place to live, Redevco is linking it to the main thoroughfares that feed it :
an upper street with shops, opening on to rue de la Porte Dijeaux
a lower street also with shops, linked to rue Sainte Catherine
these combine to create the new place Sainte Catherine, a real link with the city.

The 17,000 sq. m. open-air commercial development will house numerous retail brands spread over various levels. The plan is to bring together around ten shops with floor space between 400 and 1,500 sq. m., some twenty smaller shops and between 1,500 and 2,000 sq. m. of restaurants.
Above the shops it is planned to build apartments covering a total of 10,000 sq. m. Of this, 30% will be reserved for social housing, which will be built and owned by Domofrance on the site of the old C&A on rue de la Porte Dijeaux. The rest will be high-end apartments built by Nexity group.
This project will be "BREEAM Excellent" both during the construction phase and in its long-term running. It combines respect for the environment and energy efficiency with an integrated architectural setting that adds value to the city.
Investor Contacts
REDEVCO France
Read the press release