Created in 2006 by Dominique Hauc, this chain store's ambition was to generate a new concept in medium-sized outlets for household good. Ad'Hauc offers up-to-date items such as kitchen utensils, accessories and small electrical goods thereby positioning itself as a specialist in an ever-growing market. After all, France is the country of gastronomy, isn't it ?


Claire Matha's contribution to Ad'hauc :

Claire assisted Ad'hauc in implementing their development policy based around the implantation of the concept in major French cities, particularly in the research of high-potential outlets in leading retail parks. These include for 2010 : Bordeaux Bègles
AD'HAUC
– Retail Park de la Segece, Toulouse Labège – Strip Mall d'Unibail.

And for 2011 - Avignon Vedène – Retail Park d'Inter Ikea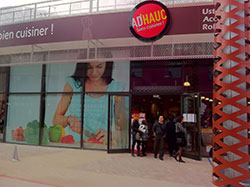 Ad'Hauc flies high :

It is in The BULD'AIR Shopping Centre, specialising in household goods, which opened last October in Avignon that Ad'Hauc inaugurated its 8th shop, just facing the Swedish giant IKEA. This is the third flagship shop that the brand, assisted by Claire Matha, has opened following Bordeaux Begles and Toulouse Labège.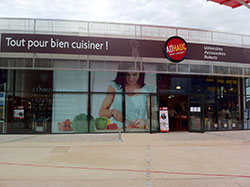 The new shop, with a floor space of 450m², offers a very modern range of kitchenware: utensils, accessories, small electrical goods, etc. Buld'air Shopping Centre is the third of its kind to be opened in France by the Inter Ikea Centre Group, the real estate branch of the Ikea group. Its conception is based on the Swedish principle of "Family Friendly" and aims to provide access to between 2 and 
2.5 million visitors in 2012. By choosing to be part of this project, Ad'Hauc continues to expand and to reinforce its presence in retail parks.